You are currently browsing the tag archive for the 'Transportation' tag.
I signed up for these email alerts some time back, and have greatly valued them. Thus, I share them with you, hoping you'll gain valuable insight and the ability to manage your transportation needs.
Cheers! And, now, with no further adieu…..
WSDOT NEWS        Washington State Department of Transportation
Snohomish County  Highway and construction Updates – October 10, 2013
Daytime paving on SR 9
The weather is getting nastier and that means our construction crews are working against time.  For our SR 9 project, that means we're making a huge push to get the stretch of highway from 212th Street Southeast to 176th Street Southeast widened to two lanes in each direction.  To do that, we're going to need to pave during the daytime from Saturday, Oct. 12 to Friday, Oct. 18.  Crews will be laying asphalt as early as 8 a.m. on the weekend, 9 a.m. on weekdays and it could continue into the evening hours.
There will still be one lane in each direction open but drivers should prepare for traffic shifts from one side of the highway to the other and short-term closures of intersection side streets when no turns are allowed.  Also, there may be times when access to local business driveways is briefly blocked.
Why the daytime closures?  This kind of work is weather-dependent.  If you remember, September was the rainiest month in our state's history, which pushed back most paving.  Now, our temps are dropping below 45 degrees at night and that makes asphalt cool too quickly to compact to the required standard, so we need to do it during the warmer daytime.  The good news is that once this asphalt work is complete, crews will temporarily stripe SR 9 to its final configuration, opening up two lanes of traffic in each direction in most areas of the work zone and that will significantly improve traffic in that area.
Prepare for nighttime SR 522 closures
If you'll be out late in Monroe – and you know who you are – prepare for full closures of SR 522 from US 2 to 164th Street Southeast/Main Street a couple nights in the next week.  The closures will be 11 p.m. to 2 a.m. tonight (Thursday, Oct. 10) and Thursday, Oct. 17.  The US 2 ramps to SR 522 will also be closed and a signed detour will lead drivers around via Main Street, Fryelands Boulevard and US 2.
During tonight's closure, the Snohomish County PUD will temporarily remove a power line so that crews working for WSDOT can install a noise wall in the area.  They'll reinstall the line on Thursdaynight.  But don't worry, there won't be any loss of electricity during the work and the noise wall installation will happen during the day.  Also, SR 522 Fales/Echo Lake roads to 164th will also closemidnight to 4 a.m. Sunday to allow crews to move heavy equipment. A ll this is part of the SR 522 widening project, scheduled to be completed in late 2014.
Looking for feedback on I-90 tolling
We asked for your feedback and received thousands of comments during our initial outreach earlier this year for the proposal to toll I-90.  We gathered the suggestions we received from the public and other agencies and now we're presenting a range of possible alternatives that could help us meet the purpose of tolling I-90: alleviate congestion across Lake Washington and help fund the remaining portion of the SR 520 Bridge Replacement and HOV Program.  About $1.4 billion is needed to complete the I-5 to Medina: Bridge Replacement and HOV Project.
Through Nov. 6, we're asking for the public's feedback again to help inform our analysis on which alternatives could meet the purpose of the study. We're considering alternatives in several categories, including tolling, state or regional taxes, mileage fees, federal funding and new highway capacity.  As part of this, we're hosting three public meetings, starting tonight, Thursday, Oct. 10, in Bellevue and then Oct. 21 on Mercer Island and Oct. 23 in Seattle.  WSDOT and the Federal Highway Administration will be on hand to listen to public comments at each meeting.  If you're interested in speaking at a meeting, you can sign up online or on a first-come, first-served basis at the start of each meeting.  If you can't make it to a meeting, check out our website to learn more about the I-90 tolling project and how to provide your feedback.
Bellevue College
4 – 7 p.m. Thursday, Oct. 10
3000 Landerholm Circle S.E., Bellevue
Parking: Park in Lot 10 for easiest access to the cafeteria. Parking is free on campus after 3 p.m.
Stay plugged in
Projects are I-5 in Lynnwood/Shoreline, SR 529 at the Snohomish River Bridge and SR 531 in Arlington are all nearing completion though some of them require decent weather to finish.  Stay plugged in to all of the construction and maintenance closures by checking out our Snohomish County Construction Update or What's Happening Now.
Questions, comments, suggestions, Halloween costume ideas?  Contact Mike Allende at allendm@wsdot.wa.gov.
After the bridge collapse up over the Skagit, the powers that be have been working feverishly to get something in place ASAP. I've been quite impressed with both the speed in which the pieces are coming together, but also the great levels of communication with the public.
Here's a look at the process (I think it's cool, but I'm a geek).

And here's a snapshot of where things stand right now (well, as of today via Twitter).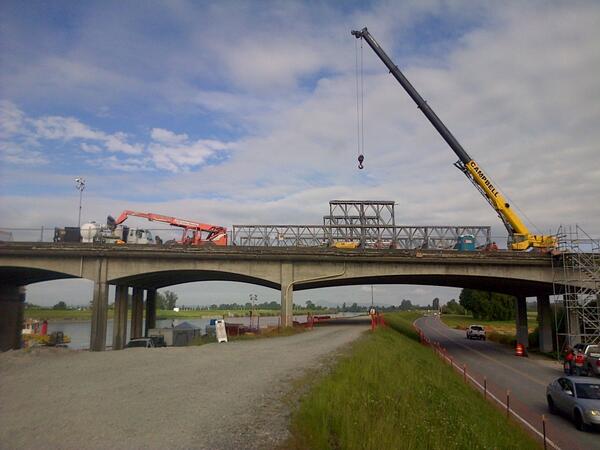 While I'm getting my son dinner ready, I see a tweet from a reporter friend stating the I5 bridge crossing the Skagit River has collapsed.
This image comes through Twitter, and I know this will be bad.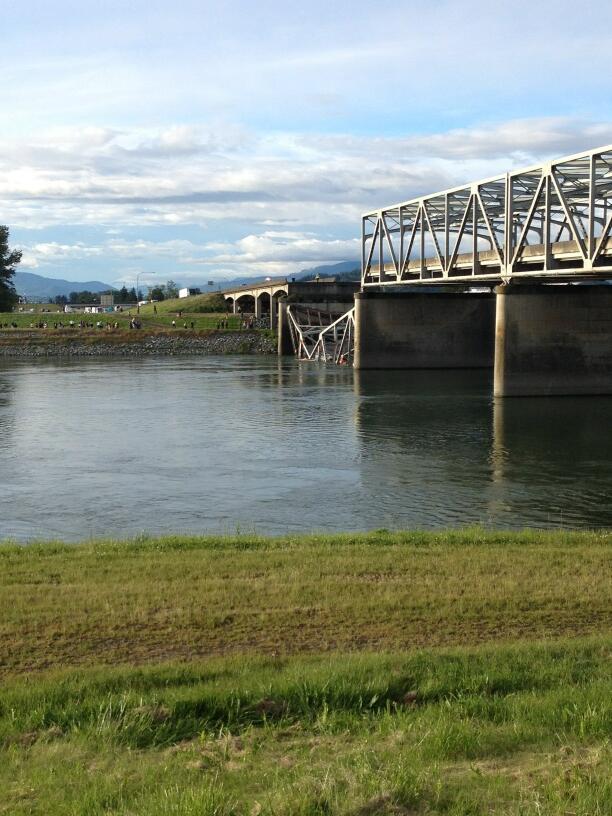 I've crossed this hundreds of times, know it well, and understand the impact this will have. Of course, that alarms me and captivates me.
I've engaged with breaking news on Twitter before, but this one has a greater sense of urgency, of connection than before. I engaged, mostly, on this Twitter feed, #I5BridgeCollapse, though there were a few others (most notably #SkagitBridgeCollapse and #Skagit).
As always happens, tons of speculation blast through Twitter. The bridge was "deficient", reports of reports, bodies seen floating…and, slowly, pieces pull together. By now, we have a good idea of the basics.
Looks like an large truck carrying an oversized load struck the bridge. This is what precipitated the collapse. Lastly, and to me, most importantly, all the people tossed into the river were rescued and are safe.
I commend Gina Cole's work today over at the Skagit Valley Herald, as well as that of her colleagues Erinn Unger and Lynsi Burton. Great journalistic pros serving our communities.
The next stage of this, though, will be painful. This shuts off the major north/south artery between Canada and Seattle. The routes around this are not designed for this level of traffic flow. We'll all need to patient as we deal with that mess.
Now, it being a long and draining day, I'm going to turn off my electronics and head to bed. I'm sure there's more to come.
Edit: Added Lynsi Burton to the Skagit Valley crew. Wretched oversight on my part.